Awarded La Jolla HOT Spot March 2017
Bubba's Smokehouse BBQ is as close as you get to real southern BBQ in the San Diego area. Make sure you are hungry when you arrive.
They are a family run operation that prides themselves on friendly service and tasty BBQ with all the fixens.  Owners, Allie and Jeff are usually there to greet you and insure you are taken care of just like y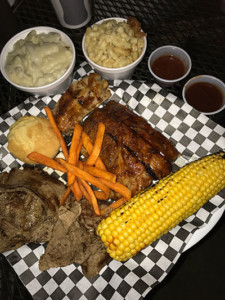 ou deserve.
Yes, all the traditional BBQ meats and side orders are available.  The Tri Tip (finished on the grill in their case) and pork ribs are my favorites.  Pulled pork and chicken plates are tasty too.
Their warm BBQ "spicy" (not that spicy) dipping sauce or sweet BBQ makes the meats even better.  Decent selection of beer and wine and the fancy coke machine where you can select your custom mix.  Bring grandma and the kids (even the dog).  Indoor and outdoor seating.  Don't wear a white shirt and grab plenty of napkins as you dig into the grub.  Mmmm mmm tasty.
Partner, please tell 'em La Jolla Social Sent You… 888 Prospect St.La Jolla, CA 92037 (858) 551-4227  www.bubbassmokehousebbq.com